Profile
Gender:
Female
Race:
Human
Date of death:
June 5, 1958
Place of death:
Ocean House Hotel
Professional status
Partner(s):
Ocean House Victim (mother)
Ed (father)
Ed Jr. (brother)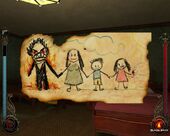 Tiffany (d. June 5, 1958) was the young daughter of the Ocean House Axe Murderer and his wife.
Background
Tiffany arrived at the Ocean House hotel in Santa Monica alongside her family. During the holiday, she noticed her father's change in personality as, when she drew her family, she drew her father as a furious demon. She was killed alongside her mother and brother, her body "chopped like firewood." After that, Ed killed himself, but not before setting fire to the hotel.
Personality
Tiffany was sweet, innocent, and enjoyed drawing. She was also keen of her surroundings, having noticed her father's anger long before anyone else.
Related Quests
Ad blocker interference detected!
Wikia is a free-to-use site that makes money from advertising. We have a modified experience for viewers using ad blockers

Wikia is not accessible if you've made further modifications. Remove the custom ad blocker rule(s) and the page will load as expected.