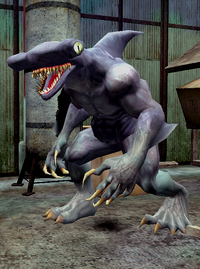 A hengeyōkai (変化妖怪) is a shapeshifting demon.[1] The one portrayed in Vampire: The Masquerade – Bloodlines, Zygaena, transforms into a bipedal hammerhead shark. He is the target of demon-hunter Yukie, who seeks to avenge her master who had died by his hand. The fledgling may offer to help kill him.
Related Quests
Trivia
Hengeyōkai appears in Japanese folklore.
References
Ad blocker interference detected!
Wikia is a free-to-use site that makes money from advertising. We have a modified experience for viewers using ad blockers

Wikia is not accessible if you've made further modifications. Remove the custom ad blocker rule(s) and the page will load as expected.