Ash to Ashes
is a
quest
available in
Vampire: The Masquerade – Bloodlines
.
Acquisition
Info not yet available.
Walkthrough
Brief
Gain access to the Society of Leopold Monastery Caves.
(Optional) Obtain Ash's Cell Key. [note 1]
(Optional) Give Ash a blood pack to restore him. ( Humanity Gain)
Free Ash. ( 2 XP) [note 2]
Detailed
You will be told Ash Rivers has been captured by the Society of Leopold. You need to rescue Ash once again.
During the quest Society for the Preservation of Professors, you will inevitably get to the Society of Leopold's Caves. This is the general area where Ash is held captive.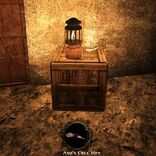 The start of the level is linear, after a few fights you will reach a "Y" splitting. Follow directions for 'Generator 2'. You will pass a large cave with multiple hunters and a boat and eventually get to a set of double-doors. On a small crate with a lantern on the right-hand side of the doors, you can pickup Ash's Cell Key. 'Do not open the doors! Otherwise you will get stuck and not be able to go back and free Ash in time.'
Backtrack to the "Y" corridor an follow the directions to 'Generator 1', after a series of tunnels you will end up in a small cave. You will need to fight two guards. Once dispatched, you will see some cells on your right.
You will notice Ash is captive in the first cell and has now new markings on the face. Use the key to unlock the cell (or use Lockpicking with a Skill of 10) to free him. He will briefly thank you and the quest is completed. (

2 XP)
Quest Log
Log Entry
You have rescued Ash from the hunters... again.
Items
Ash's Cell Key
(Optional) Blood pack
Notes
↑ Can only be done during the quest Society for the Preservation of Professors.
↑

You can also unlock the cell with Lockpicking skill of 10.